Laundry Room Cabinets & Shelves
Our laundry room organization systems help create efficient spaces in Atlanta, GA
Contact Us for a FREE
Virtual Design Consultation
Better laundry room storage cabinets are the key to happier laundry days for Atlanta-area residents. At Closet Designs and More, we work with you to design complete laundry room organization systems that revolutionize the way you do laundry. Our consultants take the time to evaluate your space and learn about your personal style preferences for laundry room cabinet style, color and hardware. We will design a completely custom system with a unique look you will love!
Some of the most popular laundry room features include:
Adjustable shelves
Hooks and racks
Custom cabinets
Hanging rods
Tilt-out hampers
Fold-out ironing boards
Our laundry room storage solutions are all about function. We make it easy to wash, dry, fold and iron all in the same room without feeling cramped or "boxed in." Wall-mounted laundry room cabinets are a great way to get additional storage above the washer and dryer. A hanging rod is the perfect place to dry garments as they come out of the washing machine. 
Additional elements like a fold-up ironing board on the wall help maximize space while keeping your clothes in ready-to-wear condition. Add sliding baskets for use as hampers before doing laundry and a shelving system to keep hazardous cleaning supplies off of the floor and out of the reach of children and pets.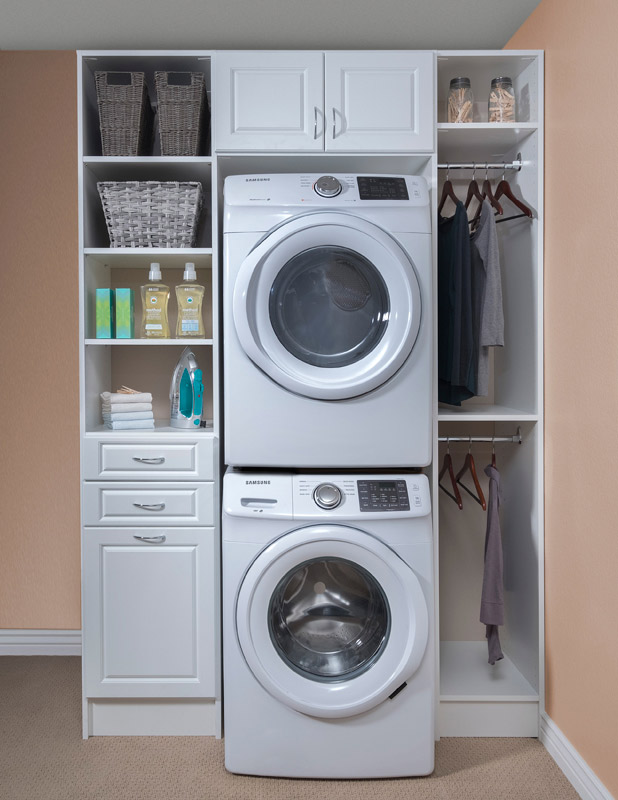 Our design consultants take a holistic approach to your laundry room so we can create a space that is functional and efficient. We will ensure there is proper storage space for everything from pretreatment sprays and laundry detergents to dryer sheets, starch and lint rollers. This makes laundry day easier and faster than ever before, so you can spend less time on chores and more time doing things that are important to you.
Closet Designs and More is all about customer service. All of our wood components come with a lifetime warranty, so you can enjoy stunning laundry room cabinets for years to come. Contact Closet Designs and More today to schedule a free consultation. Better laundry room storage solutions for your Atlanta-area home is just a click away.