How to Design a Laundry Closet for Small Spaces
People who live in tiny homes don't exactly have a choice but to forego the laundry room and closet. However, you don't have to endure not having them. It can be a challenge to build, but if you have patience and lots of ingenuity, or just know someone who executes small closet design ideas in Suwanee, then just go for it. Here are concepts to inspire you to build your own: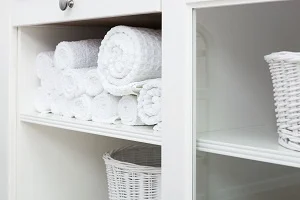 Vertical Storage
One of the things to help you open up your tiny space is to use vertical storage. Use the walls to set up open shelves and store only necessary items. Do not hesitate to throw away things that you haven't used for over a year. A walk-in closet design in Suwanee should use all the available space efficiently for a successful tiny laundry room project.
Hanging Storage
Another space-saving way to hold your essentials is to use hanging racks, hooks, and boxes. You can place detergents, brushes, and clean rugs within reach. You can create one area for washing or cleaning supplies. There are plenty of ideas that you can copy. Avoid large hangers that will obstruct light or some other usable space.
Ingenious Storage
People who create closet designs in Suwanee are some of the most resourceful individuals. Look for plans in their portfolios that will allow you to use unconventional spaces for hanging and storing items. A great example is the ceiling. You can use the area for a retractable or ladder-type clothes rack, which is a perfect feature for a tiny apartment in the city.
Corner Shelves
Corners are tricky spots to use. Most of the time, homeowners find it difficult to create usable corner spaces that they end up being idle. This area can easily store folded clean laundry or some other light items that you can stack and store in tight corner boxes. Just make sure to place the folding station directly beneath that corner.
Plan Your Movement
Before building, plan a workstation that is similar to an assembly line. Start with your machine from one side with a seamless counter made against the walls of your tiny space, moving horizontally (or whatever shape you want your laundry area to be) to a drying rack to a folding station.
Don't forget to include a fan that will help to move the exhaust out to make your laundry area comfortable.
Foldable Desks and Baskets
A foldable counter is an ideal work table for your folding area in your walk-in closet in Smyrna. You can also place nesting baskets at the bottom of your folding counter for extra storage.
These are design ideas that you can copy for a tiny laundry room and closet. Whether you plan to DIY or hire someone to do it for you, careful planning and designing are essential in making your project successful.