5 Things to Consider When Buying Garage Storage Cabinets
If you park in your garage, it's the first thing you see when you arrive home and the last thing you see when you leave your home. With custom garage cabinets and storage solutions, you'll ensure you start and end your day on a clean note!
Garages can quickly become cluttered with yard tools, sports equipment, and holiday decorations. Understanding your storage demands is the first step toward your garage storage upgrade. Here are 5 things to consider when buying garage storage cabinets.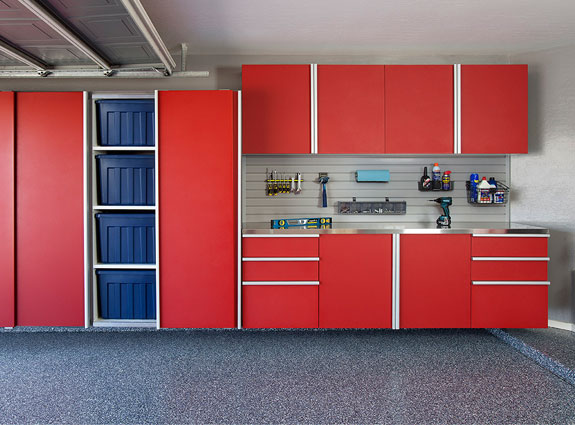 1 – Calculate Your Budget For Buying Garage Cabinets
Having a budget you are comfortable with will help guide your decision on what quality and style garage cabinets to purchase. It may be tempting to opt for the cheaper, 'off-the-shelf' option, but beware of the quality of these garage storage solutions, as they are typically made from plastic or inferior quality of steel to make that cheap price attainable. This makes replacing your garage cabinet system every few years a real possibility. Increasing your budget will allow you the option for a wider range of higher-quality building materials, cosmetic and customizable options.
2 – How Do You Plan To Use Your Storage?
The functionality of your new garage cabinets will play a huge factor in deciding what storage system to purchase. Certain items can be stored in specific ways to maximize the efficiency of your space. You'll want a design that matches your needs.
The weight of the items you are storing will also need to be considered. Plastic cabinets are not suited to hold heavy power tools and auto equipment. If that's what you plan to store, then consider steel cabinets. With that said, you may not need 18-gauge steel if you only plan to store lightweight items. Knowing which items you want to organize will help our team deliver better results for you.
– Consider a Locking Cabinet System
You may want to choose a cabinet system that has locking doors and drawers if:
you want to store chemicals and hazardous materials safely
you want to store dangerous tools safely
you want added peace of mind
3 – How Much Space Do You Have Available?
Our garage cabinets and storage systems are customizable to fit the size of your garage walls. We offer an assortment of floor-to-ceiling, overhead, and half-wall garage cabinets to get the most out of your space. We can even add a workbench if your space allows it. It's. best to have your measurements ready so we can offer you all applicable storage options.
4 – Product Durability and Material Quality Matter
You get what you pay for when purchasing garage storage cabinets. Closet Designs and More only uses high-quality products backed by an industry-leading warranty to help keep your garage beautiful for years to come. We believe in the quality of our products so much that we also offer an industry-leading lifetime guarantee on all wood products. Should any piece of garage cabinetry fail during normal use, we will replace it free of charge – no questions asked!
Our lifetime guarantee is a commitment to all our clients that we use only the best products for your custom organization project. You never have to worry about shoddy workmanship or low-grade products with Closet Designs and More. Each project is constructed diligently with attention to detail and your personal project preferences.
5 – Choose Custom If You Can
Custom cabinetry is a must for homeowners that want to squeeze the most storage into their garage. Underused areas may be given custom storage options to make them more functional. We can also organize your garage cabinets to fit your hobbies, making any required tools easily accessible. It's amazing what our team can design to make the most out of your space.
Schedule a free consultation with us, and one of our design experts will evaluate your garage space and guide you through choosing the right garage cabinets. We will happily answer any questions about purchasing new garage cabinets.