Mudroom Storage & Organizers
Entryway storage solutions for Atlanta-area residents with a lifetime warranty
In Atlanta, your mudroom can either make or break your morning routine. From backpacks to jackets, shoes, stacks of mail, and keys, it's important to find exactly what you need when you need it. That's why we design mudroom organizers with plenty of cabinet and shelving space for all your belongings.
We make it easy to go from cluttered to compartmentalized in a matter of minutes – without renovating your entire home.
Save Space & Gain Storage
The mudroom is a great space saver. Overhead cabinets are the perfect place to store seasonal wear and items that are only used occasionally, like scarves and umbrellas. Our mudroom cabinets make it easy to store your seasonal clothes in a place where they can be used as needed. You'll never have to worry about "surprise" rain showers or unseasonal weather again – our organizational systems keep your gear accessible so you can grab it and go any time!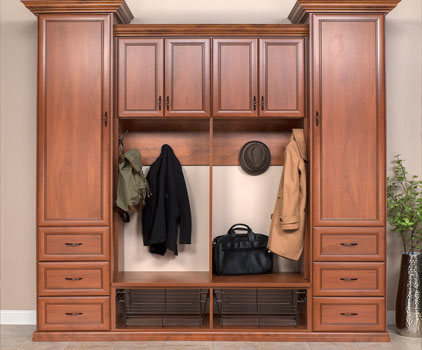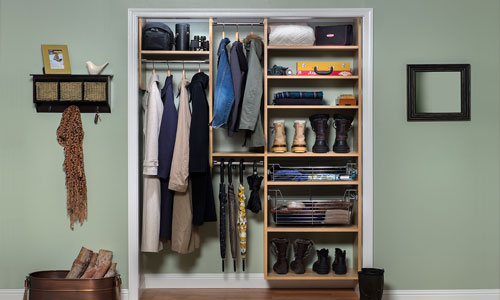 Popular mudroom organizer designs we've installed in Atlanta homes include features such as:
Shoe cubbies and shelves
Hooks for jackets, coats and backpacks
Metal baskets and adjustable shelves
Doors, drawers and benches
Base or crown molding
Premium hanging rods
Our storage solutions don't stop with the human members of your family! we can even help organize your pet's leashes, doggie rain jackets, treats, toys, and more to help ensure that every trip to the dog park is a great one.
There are a variety of ways to customize your mudroom storage system. Choose everything you want from the cabinet facing to the finish and then add extras, like base or crown molding. Other elements, like shoe storage, can also be added to give your mudroom a sophisticated touch. You can rest easy knowing that all your belongings are neatly lined up and ready to go whenever you are.
Quality for Life – We Guarantee It
At Closet Designs and More, we care about quality. All our mudroom cabinets and shelving units resist dirt, stains and moisture. These are just some of the many ways your unit is protected for life. In fact, all our wood components are protected with a lifetime warranty. Simply contact our office for assistance with replacements, and a member of our team will assist you promptly. 
Don't wait to get better storage solutions for your mudroom! Contact our team today to claim a free consultation in the Atlanta area to start living your best life!