The Gentleman's Guide To Caring For Leather Shoes
Any Atlanta gentleman knows that it's important to dress for success. From a well-tailored suit to Italian shoes sized specifically for you, details matter. The true hallmark of quality, however, is whether your favorite ensemble can withstand the test of time. Caring for mens leather shoes comes easy with proper storage custom made to tailor mens style.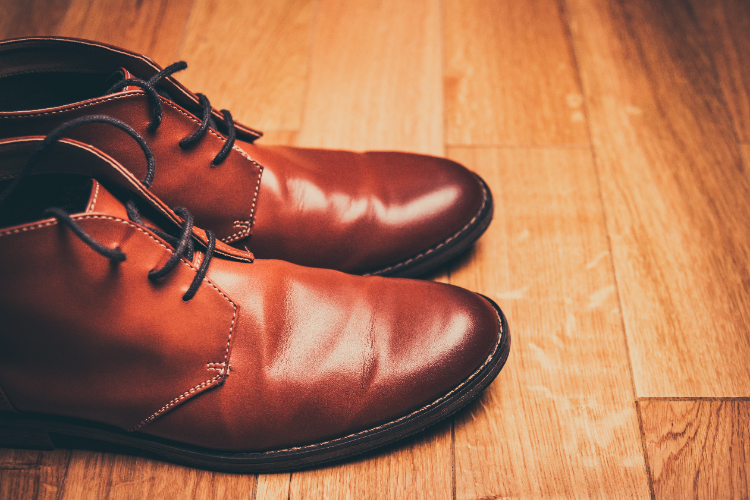 When it comes to protecting leather shoes, your best asset could actually be closer to home than you think. Your cleaning routine and storage space are often the make-or-break factors that keep your footwear ready to wear for years to come. Our shoe storage is built right in to your custom closet design for easy access, and little effort on your part.
Caring For Leather Shoes
Leather shoes are a classic staple in any man's wardrobe. They transition easily from the office to a night out with the guys. To keep them looking nice, there are a few simple steps you can follow:
Use a soft, dry cloth to remove dirt and dust
If leather has a finish, clean it with mild soap and a damp cloth
If leather has no finish, use saddle soap to clean and wipe dry gently
Allow your shoes to dry naturally; never place leather shoes near a heat source or leave them exposed to sunlight. This is especially relevant if you use saddle soap on your shoes, which contains wax. This wax will help seal and protect your unfinished leather.
Leather shoes come in all shapes and forms, so it's important to determine the exact type of look you are going for before deciding on a care and maintenance schedule. If you prefer a smooth, sleek look, then we recommend going through these steps every 3-6 months. For a more rugged look, you can let your leather dry out a little longer, allowing 6-12 months between cleanings. 
Suede Shoe Care
Suede is made from the inner layer of leather, which offers a unique texture and look. While suede is high-maintenance, its stylish look and versatility makes it a worthwhile investment. Here are our recommendations for regular care:
Use a specialized suede brush to remove dirt from your shoes
Use the side with stiff metal bristles for tough stains, the rubber side to rub out minor scuffs
Remove grease stains with baking or talcum powder and brush shoes lightly to remove when fully absorbed
Conditioning Mens Leather Shoes
Remember to condition your leather shoes every six months for best results (or every three months for those who live in dry climates). A neutral or color-matched polish can help enhance the color of your leather and increase the shine. Be sure to choose a wax-based polish and apply it in circular motions with a soft, horsehair brush for best results. To finish, apply a conditioner or protector according to the manufacturer's instructions.
This is an important step in caring for mens leather shoes. Don't forget to condition!
Leather Shoe Storage
Perhaps one of the most impactful ways to maintain your leather shoes is how you store them when not in use. If you have a custom closet design, it's likely that you have predetermined slots for your shoes that will help keep them safe. Additionally, we recommend the following:
Use cedar wood trees with split toes to help absorb moisture and keep the shape of your shoes
Keep leather shoes in shoe bags to help protect them from sunlight and dust.
Avoid transporting shoes in plastic bags or sealed storage containers so the leather can "breathe"
There are a variety of ways to keep your leather shoes looking their best. In addition to following these tips, we also recommend swapping out the laces every six months or so to maintain a clean, polished look. Shoes can also be resoled by a reputable cobbler to promote longevity.
Don't gamble when it comes to caring for your wardrobe. Your clothes are meant to last, so do everything in your power to protect them. Contact us today to learn more about custom closet design to protect your investments and help care for your favorite pieces.