How to Design a Man's Closet
Rows of shelves for shoes, dozens of drawers for accessories—does this sound like the makings of a dream closet? A big space with plenty of storage isn't just something that women want; men need it too. If you're looking for a custom closet in Atlanta that's large enough for your cufflinks, suits, shorts, and tees, here are a few design tips to make sure your new space is perfect.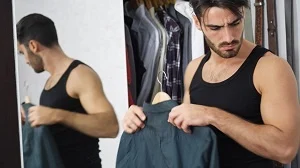 Use Double Hanging Rods
A man's closet will typically have more storage space than a woman's. Because men don't need tall hanging rods, it leaves more usable space. Take advantage of this area by utilizing double hanging rods. The extra rod should be placed just below the lowest-hanging article of clothing. Not only does this give you more places to hang your threads, but it creates a more elegant layered look.
Fold Your Sweaters
If you're in the habit of hanging your heavy sweaters, you may be stretching them out. Instead of hanging them, create a space in your custom closet where you can fold each of your sweaters and stack them nicely. Whether you choose to install one column of shelving or an entire cubby system, your sweaters will thank you!
Keep Your Shoes Off the Floor
Over the years, you've probably accumulated quite a few pairs of shoes. Your newly designed closet should provide plenty of storage for your kicks. Whether you prefer sneakers, casual loafers, or high-fashion leather boots, there should be a place for you to put each of your pairs of shoes. Make sure that your shoe storage is located off the floor to give your closet a clean and organized look.
Install Custom Storage Options
You have different closet storage needs than a woman does. For example, you have many pairs of pants that are creased to perfection. While you could use a pants hanger to keep these creases crisp, why not install a pants rack? A pants rack is just one of the specialized storage options designed specifically for men. Don't be afraid to utilize these options to keep your clothing looking fresh, even while hanging in your closet.
Untie Those Ties
One of the most unorganized spaces in a man's closet is his tie collection. If you've got a tie hanger, chances are there are a few knots and tangles keeping you from accessing each tie. Don't take this mess with you to your new closet. Instead, install a slide-out tie rack. These convenient racks keep each tie carefully separated from the others, allowing you to quickly access each one and pair it with the perfect shirt.
Safely Store Your Accessories
Women aren't the only ones that need jewelry storage solutions. If you have cufflinks, tie clips, necklaces, rings, or watches, there should be a place to put them in your new closet. If you have a large closet, a display island can be installed to make your jewelry a focal point. For smaller closets, install a small pullout drawer to ensure that your accessories stay safe while not in use.
You deserve to have the storage space you need in your closet. When it comes to custom closets in Atlanta, allow the experts at Closet Designs and More to step in and create an area that is perfect for you.